Are Fries Vegan?
Vegans often feel frustrated when they cannot order french fries at restaurants because almost every other option contains either animal products or milk.
Can you trust that the French fries you get from a fast food outlet or a restaurant would be suitable for a vegan diet? The quick answer is yes! However, there are certain (very rare) instances in which fries are not completely vegan. For instance, the French fries at McDonald's are made using beef fat!
Different variety of fries
As a food, fries (or chips, as they are known in the Commonwealth) couldn't be easier to make (it's just a potato), but getting them right is a different story.
You've probably experimented with DIY versions and been less pleased with the outcome. You're not alone in this sentiment; it's one of the primary drivers behind the ubiquitous availability of French fries worldwide.
You may be able to do everything yourself, but it's hard. Let's check to make sure that homemade french fries recipes are vegan, and if so, let's move on to frozen french fries, restaurants, and takeout options to determine whether this is the vegan fallback everyone believes it is.
Find out if Olivia Rodrigo is vegan or not!
Are homemade french fries vegan?
French fries prepared at home are the gold standard by which all others are judged. Provided That You Stick To Only:
True, locally grown potatoes
Non-animal oil (soybean, peanut, avocado, canola oil)
Salt
Frozen french fries
To make frozen french fries, 29% of all US-grown potatoes were used that year. Fast food chains and other eateries buy the vast majority of frozen french fries; barely 10% make it to supermarket shelves. However, there is not much variety in the items sold to the public, and the vast majority of output originates from just six companies.
McCain
Lamb Weston
Cavendish
Simplot
Aviko
Farm Frites International
Frozen French fries contain an ingredient list, which is useful for determining whether or not they are vegan. You can buy products from locally produced brands because the brand usually marks the origin of the products.
Frozen French Fries typically contain only plant-based ingredients. However, they occasionally use animal products.
Milk
Cheese
Lard from animals
Some E numerals are used for food coloring
Bacon
Having a taste reminiscent of an animal
Disodium Pyrophosphate (or sodium acid pyrophosphate), Soy proteins, Dimethylpolysiloxane (a surfactant), and Dextrose (to add sweetness) are commonly added ingredients in most brands of frozen fries products. Fries typically include a vegan-friendly seasoning blend, including spices, salt, and garlic.
Restaurant french fries
Vegans may only be able to order French fries at a restaurant. The French fry is the go-to for all other meal options, including dairy or meat. Are they, though? Most eateries have frozen french fries, so if you ask your server, they should be able to tell you whether or not the product is vegan.
The next question is whether or not animal fats were used in the preparation, in which case you should be alright. Keep in mind that there's some disagreement about whether or not it's still considered vegan if a plant-based component is cooked in the same oil as an animal-based ingredient. Be sure to inquire about it if you're curious.
Find out if Birra Moretti is vegan or not!
Breakdown of big fast joint's fries
Fries are often the only vegan option at fast food joints. Let's check over the most well-liked to find out where you may acquire some vegan French fries. Even while most fast food French fries are made from vegetables, they are virtually certainly contaminated with animal products during the cooking process.
It's also a good idea to ask what kind of oil they use since some oils have a lot of negative effects on the environment and are, therefore, not suitable for vegans. The most common oils used for frying are canola, sunflower, vegetable, and olive. However, hydrogenated soybean and peanut oils are becoming increasingly popular.
In most cases, oils will be listed as an ingredient; however, this is not always the case. Remember that you can always check the fast food restaurant's website if you have questions about ingredients. Moreover, by law, they must prominently post a list of ingredients that could potentially trigger allergic reactions in every one of their establishments.
1. McDonald's
Despite popular beliefs, McDonald's fries are not cooked in animal fats. They started using vegetable oil instead of animal fats in the early 1990s. Flavored vegetable oil made from natural ingredients.
Despite its name, it's a wheat and milk derivative product that passes for "beef." McDonald's does not provide any vegan fried options because of this.
2. Burger King
Burger King doesn't use meat or animal byproducts in their French fry preparation. Nonetheless, they share the deep fryer with other foods, including chicken nuggets and fries. Thus, in a sense, Burger King's fries can be considered vegan.
3. Taco Bell
Taco Bell's fries are vegan, yet they may contain trace amounts of dairy, seafood, or eggs. Perhaps Taco Bell's fries are cooked in a separate fryer from its tacos. Therefore, it's safe to assume that Taco Bell's French Fries don't include animal products.
4. KFC
KFC's French Fries are vegetarian and vegan because they are made without dairy or meat. They're not different from KFC's other fried chickens, but they're made using a different batter than their other fried chicken products. You should know that there is milk in mashed potatoes. KFC's French Fries are vegan-ish, but not entirely.
5. Wendy's
Wendy's offers the same products under two different brand names, seasoned potatoes and french fries, but in slightly different shapes. They're vegan because their ingredients don't contain any animal flesh, but they use the same cooking oil as chicken nuggets and meat fryers. The Wendy's fry is a kind of vegan option.
6. Five Guys
French Fries from Five Guys are among the best options for vegans. Fries are cooked in peanut oil that is never recycled. Neither of these things includes any form of animal product. Vegans can enjoy five Guys' French fries.
7. Chick-Fil-A
The famous Chick-fil-A Waffle Potato Fries are completely free of animal products. It's conceivable, though, that they share cooking oil with other foods. Chick-fil-french a's fries are vegetarian-friendly.
8. Popeyes
Popeyes' chicken nuggets are fried in animal-free oil, while the fries are made in a separate facility. Corn on the cob and mashed potatoes are other foods that include milk products. Instead of beef, fish is used in red beans and rice. Popeye's fries are vegan-ish, but not really.
9. In-n-out burgers
At In-n-Out Burger, the French Fries are fried in special fryers and manufactured with exclusively plant-based ingredients. Therefore, all IIn-n-out burgers fries are cruelty-free.
10. Arby's
Unlike their fried chickens and burgers, Arby's fries don't contain any meat products, but they're prepared using the same cooking oils. In this sense, they can be considered vegan.
11. Hardee's / Carl's Jr.
Even though Hardee's fries don't include animal products, the beer-battered onion rings contain milk. All of their fried chicken shares the same fryer. That means you can eat Hardee's fries guilt-free because they are vegan.
12. Jack In The Box
Fries, wedges, and curly fries fromJack in the Box are completely meatless, but they are fried in the same oil as the restaurant's famous nuggets. French fries from Jack in the Box are consequently kind of vegan.
13. Sonic Drive-In
Sonic Drive-In doesn't use animal products in its food preparation, including French fries, onion rings, and tater tots. They use the same cooking oils for their fried chicken, mozzarella stick, and other meat-based foods.
Moreover, you should read our previous article about Doritos, whether they are vegan or not.
How About Dips and Sauces?
This topic deserves its article, but in brief:
Vegan ketchup is probably not hard to find.
Most likely, Mayo is not suitable for vegans (eggs)
Most BBQ sauces are cruelty-free.
Conclusion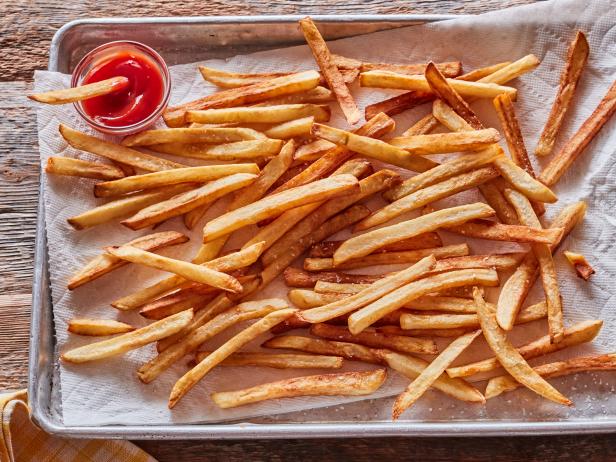 Because French Fries are so ubiquitous on restaurant menus and have such a straightforward preparation method, it's easy to ignore that they're not vegan. Most restaurants that provide fries employ plant-based ingredients; however, McDonald's, for example, uses animal-based components.
Find out whether Crumbl cookies are vegan or not!