Are AirHeads Vegan?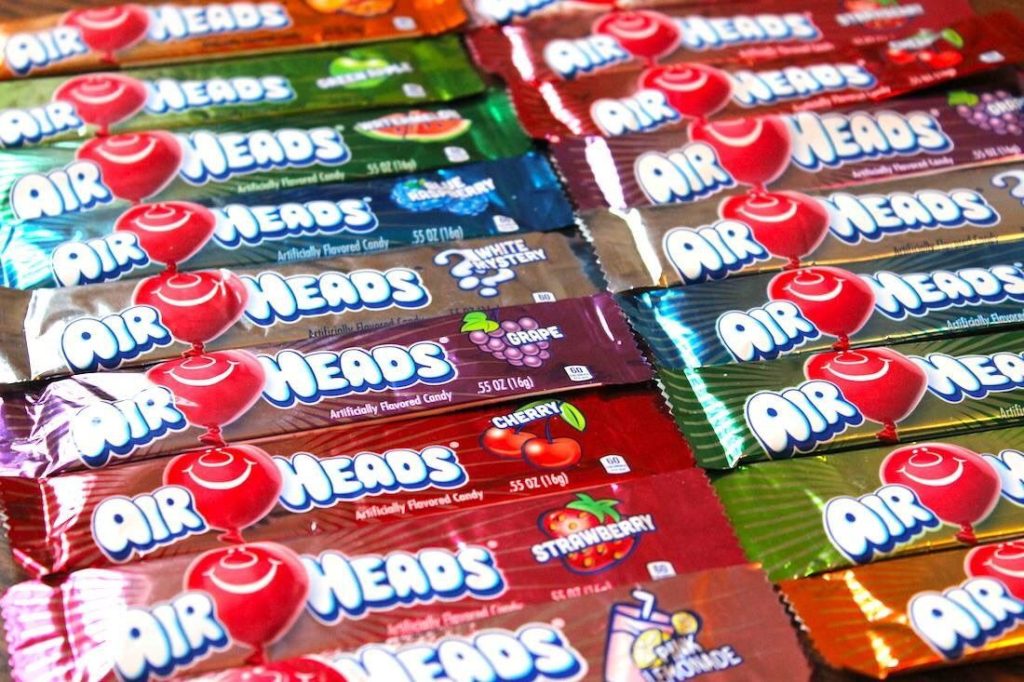 The Dutch-Italian company Perfetti Van Mellem makes sweet, taffy-shaped candies called AirHeads in various fruit flavors.
In addition to joyful, blue raspberry-cherry, blue raspberry, watermelon,mango-chile, strawberry, white mystery, orange, grape, strawberry-watermelon, green apple, and fourteen other varieties, AirHeads are offered throughout the entire country. Additionally, there are numerous varieties of AirHeads.
Among the original AirHeads products, there are both veg­an and non-veg­an varieties. So, feel free to read this blog to learn which are veg­an and which aren't.
Do AirHeads contain any animal products?
Given the variety of AirHeads, we must examine each separately to determine whether or not vegans may eat them. In light of this, let's begin by examining the components found in the original Airheads Bars.
1. AirHeads bars
The AirHeads Bars are theoretically vegan-friendly when considering the list of ingredients at the bottom, published by the Airheads.com website.
Even if you may name a few dubious substances that more ardent vegans intentionally avoid, you have no evidence of animal-source ingredients.
Ingredients:
Sugar
Water
Corn syrup
Palm oil
Maltodextrin
Dextrose
Modified food starch
Artificial flavors
Citric acid
Water
2. AirHeads Bites
They are not vegan, AirHeads Bites.
Beeswax and Shellac are two of the non-vegan substances found in them. As the name suggests, beeswax is a wax made by honeybee workers in beehives.
Shellac is a substance secreted by female lice in India and Thailand's tropical rainforests. It is frequently used as a food glaze, coloring, and wood finish.
Additionally, the substances sugar, artificial flavors, and artificial colors are present in AirHeads Bites.
Ingredients:
Glucose syrup
Sugar
Dextrose
Maltodextrin
Hydrogenated coconut oil
Modified corn starch
Citric acid
Artificial flavors
Sorbitol
Rice starch
Glycerine
Beeswax
Shellac
Sucrose esters of fatty acids. (Blue 1, Yellow 5, Yellow 6, Red 40)
Gellan gum
3. AirHeads Soft-Filled Bites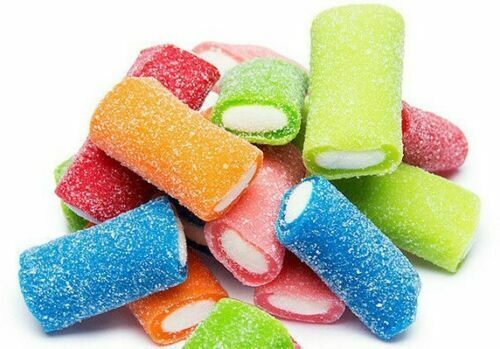 Even though these aren't made from beeswax or shellacs, they're still not considered veg­an because they contain gelatin.
Sadly, gelatin is used in place of such substances in these AirHeads.
Gelatin is an animal-based ingredient from boiled cow or pig skin, tendons, ligaments, and animal bone char.
Gelatin is used in cosmetics, including shampoos, facial masks, and other beauty products. These AirHeads Soft Bites, in conjunction with their inclusion of gelatin, also include artificial flavors, colors, and sustainable palm oil from oil palm fruit.
Ingredients:
Glucose syrup
Natural sugar
Corn starch
High-fructose corn syrup
Malic Acid
Food starch that has been modified (from corn) (Potato)
Citric Acid
Dextrose
Lactic Acid
Coconut Oil
Artificial Flavors
Gelatin
Sorbitol Syrup
Hydrogenated Palm Oil
Salt
Glycerin
Trisodium Citrate
Fumaric Acid
4. AirHeads Gummies
Yet another non-vegan product is AirHeads Gummies.
To everyone's surprise, it includes substances like beeswax and gelatin.
But that's not all. In addition, these gummies contain non-vegan ingredients like several artificial colors, flavors, and simpler sugars.
Ingredients:
Gelatin
Corn Syrup
Carnauba Wax
Artificial Flavors
Sorbitol
Normal Sugar
Citric Acid
Sodium Citrate Beeswax
Pectin
Coconut Oil
5. AirHead Gum
Four flavors are available for the AirHeads gum: blue raspberry, cherry, watermelon, and white mystery. Only one of these four flavors is regarded as vegan status.
All AirHeads gums contain no animal ingredients. Carmine is present in the remaining flavors, despite the absence of overtly animal-based substances.
The carcasses of cochineal beetles are dried, crushed, and then cooked to produce carmine, a culinary red color.
In addition to carmine, AirHeads gum also includes certain dubious components such as artificial tastes and other artificial colors.
Ingredients:
Artificial flavors
Malic acid
Tartaric acid
Citric acid
Carrageenan
Aspartame
Sucralose
Coconut fat
Blue one lake
Acesulfame K
Lecithin (soy)
BHT to maintain freshness
Sucrose fatty acid esters
Color is present in less than 2% of the ingredients (Carmines).
6. AirHeads Xtremes

AirHeads Xtremes don't include any ingredients derived from animals, save from a few of the "questionable" substances indicated on the label.
They are therefore regarded as vegans in theory. You may purchase AirHeads Xtremes from any local retailer or order them from Amazon.
Ingredients:
Modified (Potato)
Food Starch
Citric Acid
Modified (Corn)
Malic Acid
High Fructose Corn Syrup
Sugar
Artificial flavors
Wheat Flour
Potassium Citrate
Glycerine
Salt
Hydrogenated soy oil
7. AirHeads Xtremes Bites
Rainbow Berry is the only flavor of the Xtremes Bites, like the AirHeads Xtremes.
The Xtremes Bites aren't vegan, unlike AirHeads Xtremes.
Unfortunately, carmine, used to color foods like ice cream and candy, is found in the Xtreme Bites.
As usual, it also has more dubious components, which I'll discuss later in this blog post.
Ingredients:
Modified food starch
Sugar
Corn syrup
High-fructose corn syrup
Corn starch
Corn starch
Modified Potato
Food Starch
Malic Acid
Wheat Starch
Citric Acid
Salt
Artificial Flavors
Potassium Citrate
Hydrogenated Soybean Oil
8. AirHeads Xtremes Sourfuls
So far, there has been no non-vegan version of AirHeads Xtreme. It will remain that way for now. Sad to say, it will stay that way.
Gelatin is present in the AirHeads Xtremes Sourfuls, making them ineligible for the vegan category.
In addition, it contains several additional dubious ingredients, including palm oil, artificial flavors, and added colors. All components are linked to cruelty to animals.
Ingredients:
Corn syrup
Sugar
Malic acid
High-fructose corn syrup
Modified potato starch
Corn starch
Less than 2% of dextrose
Citric acid
Gelatin
Wheat starch
Coconut oil
Sodium malates
Salt
Artificial flavors
Sorbitol syrup
Hydrogenated palm oil
Fumaric acid
Glycerol
Yellow 6, Blue 1 lake, Red 40, Blue 1, and Red 40
Trisodium citrate
Conclusion
The AirHeads bars are vegan, and the Xtreme bars are not. However, they include some of the dubious substances we previously noted in this blog post. In other words, they continue to include compounds linked to animal abuse.
If you're strict about avoiding animal products, you may eventually decide not to eat these foods. Still, if you're typing for most veg*ns, you probably won't avoid them even though they're technically allowed.
We appreciate your veganism!
Frequently asked questions – FAQs
Do AirHeads contain dairy?
The original AirHeads are regarded to be vegan in most cases. The only substances that may be considered dubious are palm oil and processed sugar, which are tried to be avoided by some hardcore vegans. Wide varieties of AirHeads gums are available, including AirHeads gum, AirHeads Xtremes, AirHeads mints, and AirHeads breath strips.
Skittles, are they vegan?
Not all varieties of Skittles, but the majority, are vegan. While the current versions of Skittles Sour, Skittles Classic Fruits, Wild Berry Skittles, and Skittles Tropical are all safe for the strict vegan community, some special editions, such as the Once in a Blue Moon Skittles, are not because the blue skittles contain derivatives of animal products.
Why are you supposed to shake AirHeads?
Sometimes we would grasp the AirHeads by the wrapper's end and forcefully shake them back and forth so that the AirHeads would form into a tiny clump rather than thin taffy. This would cause the AirHeads to be shaped differently. AirHeads are not quite the same as taffy since, compared to regular taffy, they are chewier, less sticky, smoother, and more difficult to bite into.
Oreos, are they vegan?
No, Oreos contain milk as a cross-contact, making them inappropriate for vegans.
Which Doritos is vegan?
Since the base tortilla chips, Doritos, is created entirely from pulverized maise and are combined with salt, sunflower oil, or other vegetable oils, they are happily completely vegan.
Are AirHeads taffy?
Taffy candies are produced under the AirHeads brand in the United States. These candies are owned by the Italian-Dutch business Perfetti Van Melle. Steve Bruner initially developed them on August 7th, 1985. There are sixteen distinct varieties of AirHeads candy sold throughout the United States and Canada, and they may be purchased at any retail location.
How vegan are Pringles?
The majority of the Pringles flavors, according to this research of every flavor, are not vegan. The only vegan Pringles flavors are Lightly Salted Original, Original, Reduced Fat Original, and Wavy Classic Salted.
How many flavors of AirHead are there?
In the United States, consumers can purchase AirHeads in 50 states. There are over 16 distinct types of candy that may be purchased.